Breville Smart Oven Air vs. Philips Viva Air Fryer
This spring, we took our annual trip to visit my family in Singapore, my hometown. Singapore is a land where food reigns supreme. The most prominent of bloggers are the one who dedicate themselves to searching for the best food across the island. Because people love food so much, standards are extremely high. I was having lunch with my aunt's family at a somewhat fancy restaurant in the city. To my surprise, I heard her order "spam fries" in Mandarin. They came out looking very much like fries, except in a darker flesh tone. Out of politeness, I tried a piece… it was good! I declined my second serving to which she replied, "Don't worry, there's no fat, it's air fried." I know… 😂. So what's this air frying thing? It's no surprise that Singaporeans are crazy over the air fryer. Singapore is 80-90F and humid all year round. For that reason, few venture to use their ovens or attempt to deep fry. Air frying solves that problem in the kitchen. These urn-shaped appliances do not radiate much heat at all, yet can "fry" up just about anything without the use of oil. When we got back, Mikee did the research and discovered that Philips was the pioneer in air frying technology. We waited for it to go on sale and got a Viva Air for $99.99. Shortly after, I came across a wirecutter article that claimed air fryers were just a gimmick, that you could actually get the same results on any convection oven, specifically the Breville Smart Oven Pro. Last night, I tested three appliances on my deep-fried favorites: Trader Joe's Cauliflower Gnocchi and firm tofu. I'm listing historical price ranges.
Philips HD9220/28 Viva Airfryer (1.8lb/2.75qt) - ($99-$159) *newer model available here

Breville Smart Convection Oven Pro - ($159-250)

Breville Smart Oven Air - ($245-$399)
The verdict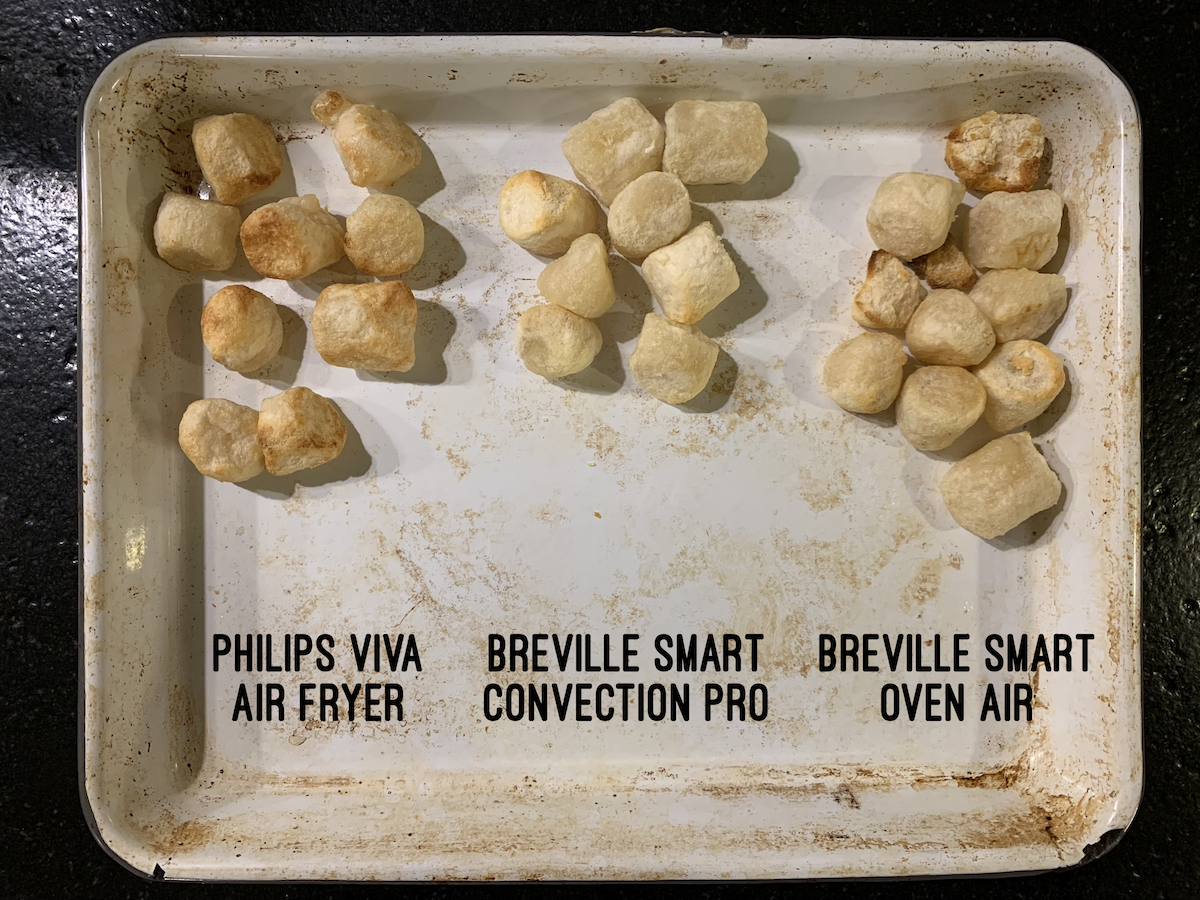 As it turns out, they all air-fry reasonably well. The Philips Viva did the best job in even browning on all sides, followed by the smart oven air. The convection oven struggled the most because it did not have an air frying basket that the other two had. They did however all taste crispy and achieved what I would say is "deep-fried" textures. So which one should you get? It depends.
Philips Viva perfect for two
If you already have a toaster oven at home AND you have counter space, go for the air fryer. The last thing you want to do is shove an appliance in the pantry. You know you won't use it. Airfrying is something I do almost on a daily basis because it can crisp up literally anything This little baby gets up to 390F in under 3 minutes! If you're a family of four or more, you could get the Viva XL but at that size, it really starts to look like an eyesore. (Especially since it'll be sitting right next to the hideous InstantPot!)
Family of four starts here
This big little oven has been a workhorse in our family for years. And I actually love how it looks like on the counter. It's a #parentoftheyearhack for appliances because it heats up to 400F in under 5 minutes. We use it daily as our primary oven to toast, roast, bake or re-heat. It is deep enough for 9"x13" that it sufficiently feels like a decent second oven. It won't be a champ at air frying, but this $20 copper crisper hack might be all you need. (Unreviewed by WLK)
The one oven to rule it all
You know what else this oven can do? It can air fry AND dehydrate on three separate layers. That means, this will work wonders for larger families and perform all the day-to-day tasks we love about regular toaster ovens. I also found out it has a proof setting that really does set this oven apart. It may be the most expensive of the three but you get some serious bang for your buck!
Why air fry in the first place?
As someone who is on a journey of weight loss, the air fryer is actually a convenient and key support tool for me. It helps me change things up, make food tastes like deep-fried without being deep fried.
The kids love the all-round crispy Cauliflower McNuggets or fries that I make. I'm able to deep fry some serious firm tofu for my favorite indonesian salad, gado gado. If I want to quickly crisp up some veggies, I just have to toss it in there for a few minutes. Miso salmon also comes up perfect in the air fryer. The possibilities are endless.
What about the cheaper air fryers and the cuisinart smart air oven?
I am an appliance snob and frankly do not like the idea of things breaking down on me so I will invest in leaders who are dominant in their category. Like the guys at Phillips, they have been doing what they're doing for a long time. Breville's smart oven is smart because it packs in a bunch of extra features like dehydration and proofing temperatures! There's also cuisinart's contender which will do the basic baking and air frying. But if you look closely at the specs you'll know why. It's a mini - 0.6 cubic feet compared to Breville's 1.0 cubic feet. That means you won't be able to bake a 12-pan muffin tray or 1/4 sheet casserole in it. Makes a huge difference if you want an oven that actually acts like a primary oven.
Who should NOT buy this?
Here's my point of view based on painful lessons from my own personal experiences
If you want to get mileage out of any appliance, it needs to live on the countertop.

- Me, staring at the graveyard of appliances in our pantry.
It doesn't matter how amazing the appliance is. That is why I haven't touched my sous vide, yogurt maker, rice cooker in years. (My instant pot and slow cooker gets monthly use for a specific brunch I host at church). So either you have the real estate for it, or you downgrade another appliance to make room for it. Otherwise, save yourself some money and skip this one.