Why I ditched recipes
Mikee and I work 9 to 5 jobs. The bay area traffic is nuts, so we have to beat it to get our kids from their respective schools. If we're lucky, we're home by 6pm and bedtime is at 8pm. That gives us 2 hours to clean up, make dinner, eat dinner, spend time with the kids, clean up (again) and get them down for bed. So for us, amazing food isn't a priority. Eating healthy is. I make their lunches and my own lunch from scratch. So how do we do it? Turns out, it's more what we don't do. We don't follow recipes.
Recipes get in the way of executing with speed
How many times have you seen people ask for inspiration for "easy recipes"? No matter how easy a recipe is, there's always going to be a list of ingredients and a list of steps. Taking the time to read and follow will always add more time to your plan. And if you don't take the time to read the fine print, you might find out 30 minutes before dinnertime that the recipe required an overnight marinade. So okay, I haven't ditched recipes completely. I however limit full recipe endeavors to 1-2 per week. I typically schedule them for the weekend when I actually have more time.
Recipes limit your creativity
Once you start relying on recipes, it becomes a crutch. You will not learn to make do with what you have and pretty soon you'll have the "All or nothing" mentality. People who follow recipes have a hard time improvising because they're afraid of failure. Believe me, I've been there. I'm not a professional chef, so I don't care for nailing my dishes every single time.
Recipes make you spend more money
Pretty soon you will come to the realization that you just spent more money AND time following a recipe than you would have if you just straight up went to the restaurant. Most recipe books wants to highlight the diversity of their dishes so ingredients will vary widely. As a result, you always feel like you're buying new spices or ingredients.
Recipes make tracking macros harder
If you're trying to keep accurate tracking of calories/macros, recipes make it a pain. By focusing on foundational building blocks, tracking becomes much easier.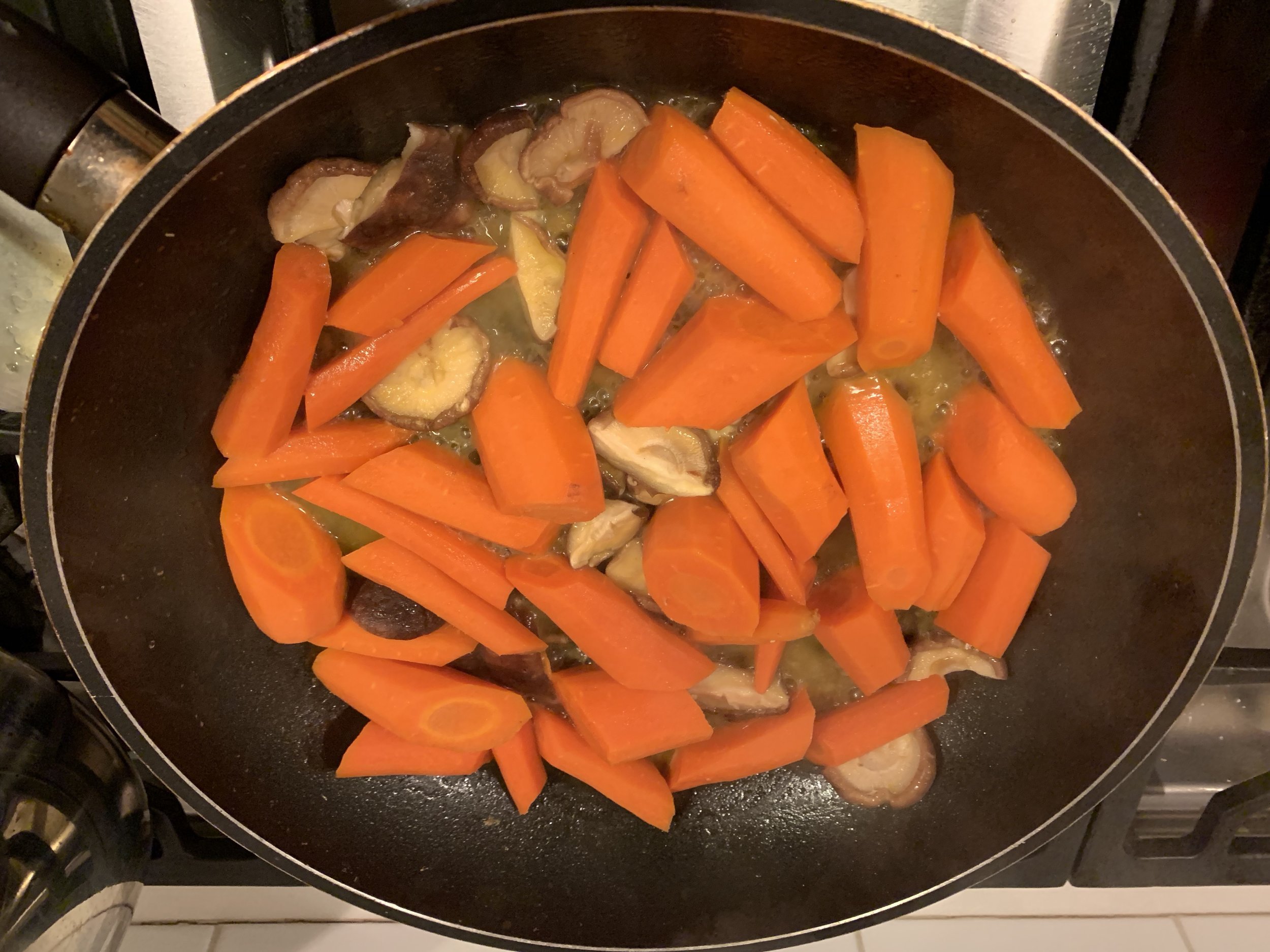 Pictures of what the prep and meals look like


It's less about cooking and more about assembling.
Devote a couple of hours on the weekend to cook 90% of everything. You will cook everything without worrying about flavors. Your goal is to get it to be cooked "right"

Pick 3 proteins, 3 veggies, 3 carb sources and cook them all in one sitting. (Print handy cheat-sheet for cooking instructions. COMING SOON!)

Spend weekdays "mixing and matching" dinners based on what you've already cooked

Use sauces and spices to jazz things up when you assemble
These are some protein sources we have on hand:
Each week we have about 3-5 in rotation
Poached chicken. Perfect every single time!

Slow-baked Salmon: Place oiled/salted room-temp salmon into oven at 275F. Slow bake for 10-15 minutes. This makes sure the salmon is not over cooked which is perfect for reheating.

Ground Beef, Turkey, Chicken: Fry on a skillet, drain fat. Feel free to add in minced onions/garlic for extra flavor.

Roasted turkey slices, ready-to-go

Baked single-serving eggs or egg whites

Perfect hard boiled eggs: Place eggs in boiling water for a minute. Cover. Turn off the stove for 9-10 minutes and do not touch the eggs. Peel immediately.

Frozen shrimp and fish

Tofu
Our go-to carb sources:
Whole grains: Rice, Quinoa, Cous Cous, Millet etc.

Pasta, Egg noodles, Ramen

Beans (fresh or canned), edamame

Carb-y veges: potatoes, sweet potatoes, frozen corn, butternut squash

Trader joe's: Cauliflower gnocchi, ravioli
Vegetable staples:
Cauliflower: Roast florets at 425F for 25 minutes

Broccoli: Roast florets at 425F for 25 minutes

Green beans: Blanched for a minute

Carrots: Poached in smoked salt/sugar

Napa: Lightly boiled

Zucchini: Spiralized but not cooked

Frozen peas

Spinach or Salad greens

Mushrooms: Sautéed
Sauces/spices:
This is where the 10% of cooking might come in when you actually assemble dinner. It's totally okay to have dinner without sauces but if you need to spice things up, here's a handy reference guide.
Basic cheese sauce (1/4 cup butter, 1/4 cup flour, 2 cups milk, 1 cup grated cheese, 1/2 tsp salt)

Low-fat cheese sauce: 2 laughing cow wedges + 2 tbsp of Vermont cheddar cheese powder + a cup of broth

Simple tomato base: Roasted tomatoes with garlic and EVOO

Yogurt dip: 1 cup greek yogurt. 1 tbsp lemon juice, 1 tbsp EVOO, 1/4 tsp salt and 2 cloves of garlic

Your favorite Trader joe's pre-made sauce: pesto, marinara, thai red curry, hummus, shredded cheese, guacamole,

Straight up butter + salt + squeeze lemon
Pantry staples:
Chicken broth, converts anything to a soup

Any store-bought Marinara sauce (jar), canned diced tomatoes, tomato paste or pizza sauce

Canned beans, dry beans

Pasta, egg noodles, rice, quinoa, cous cous etc.

Whiskey Oak seasoning salts (Currently 15% off with our exclusive WORKLIFEKIDS coupon code)

Trader Joe's Everything but the bagel seasoning
Freezer staples:
Bagels (sliced), Dave's killer Bread, Lavash bread

Cookie dough (Do not eat them all, freeze the dough)

Leftover pizza
Fridge staples:
Appliances/tools:
Breville Air Toaster Oven: This little oven can bake up to a 1/4 sheet of cooked AND toast AND dehydrate AND air fryer AND convection bake AND roast a 14lb turkey. Because of it's smaller size, it heats up SO FAST that I guarantee, you'll use it every single day.

Breville Fast Slow cooker: This beauty will do triple duty as both a pressure cooker, slow cooker and rice cooker. If you haven't already noticed, I'm a Breville fan. Their appliances look so good you'll want to keep it on your counter. Which also means, you'll use it.
Here's the magic, choose your assembly method:
Bento box + dip/sauce: You choose a protein, vege and carb source and assemble like a bento box. Optional dipping sauce on the side.

Euro plate: I have a friend, Emily, who is married to a German, and they introduced me to "Abendbrot" which translates to "evening bread". It's genius - you put together a plate of cheese, hard-boiled eggs, crackers/bread, fruit or pickled vegetables. If you have some cooked veges, heat it up with some broth and cheese and blend for a hearty soup. My go-to is Gordon Ramsay's 2-ingredient broccoli soup. It's all about the method - watch his video here.

Big ass salad: Combine what you have on hand to make a salad. I don't make rules with salad. Just pick the veges you like, add a protein topper and finish with your favorite dressing.

Fried rice or noodles: Combine what you have to make a stir fry. If you have egg noodles or rice already prepped combined with some diced meat and veges. At least one of your meals should be a fried rice. Make sure you add in some scrambled eggs at the end and a dash of fish oil and white pepper.

Soup it up: Throw everything into a pot and add chicken broth to heat it up. Now you have some version of a ratatouille or chicken noodle soup. Instant hit with the kids! Careful not to over-boil or you'll get mush.

Let it stew: Use one of your pantry sauces to convert your cooked food into a sauce-y or stew-y entree. If you have chicken and butternut squash cooked, throw it into some red curry sauce and you'll have Thai for dinner! Serve over carb of choice.

Carb got yo' covered: If you have bagels or lavash in your freezer, you'll always be ready for pizza, burritos, sandwiches etc. There really aren't any rules. Yes, you can even make open-faced bagel pizza!

Comfort food: When you do venture to try new recipes on the weekends, double the batch you're making and freeze in containers. This will mean you will always have comfort food on hand. My favorite is this classic ragu bolognese sauce and the crack chicken recipe.

Happy meal : I always have frozen sweet potato fries, peas and pre-cooked cauliflower chicken mike-nuggets in my freezer. That means I am always 8 minutes away from a happy meal for the kids.