Travel for conferences like a pro
I was honored this year to be one of my company's ambassadors at the Grace Hopper Celebration in Houston. It was amazing to be learning and inspired by 20,000 women in tech all around me. The vibe in the Toyota Stadium during the keynote was just incredible. Jessica O'Matthews, founder of UnchartedPower, kicked off the day by sharing her incredible story of overcoming all odds.
" Getting underestimated was the best thing that ever happened to me".
Could underestimation actually be a super power instead of an obstacle? I honestly didn't think I actually had time to devote to growing this "business". Heck, I'm afraid to even call it one. But I knew I have content that people want and care for. For as long as I've become a mom, I have been diligently documenting my journey for the benefit of others. I owed it to myself to at least see where this go. It was also during this trip, that I created the time for myself to make it real. I won't forget the moment when my co-worker and fellow entrepreneur, Kylie@GoodnightFox, and I were sitting in the backseat of our lyft ride, when I finally declared the name -- WorkLifeKids! WorkLifeKids! There was a mad scramble in the next few minutes to check if that name was still available. Within minutes, I had purchased a domain for on Squarespare and created both instagram and gmail accounts.
It now seems appropriate that my first post will be about traveling for conferences - to commemorate where it all began for WLK. Traveling away from our families is tough on the family emotionally and physically. I've amassed some tips that will help make this smooth and pain-free. You might actually enjoy the conference. :)
Plane travel
I'm a big fan of the Away travel luggages. They are lightweight yet strong, handle like a champ and just look damn cute. I love the pink zipper accent on the limited edition I purchased. I love the ejectable battery bank that comes with the luggage. The larger carry-on fits perfectly in any overhead bin and the smaller carry-on will fit any overhead including the smaller propeller planes. The larger has a generous capacity for a 4-7 day trip and the smaller one works for a 1-4 day work trip. Not sold? There's a 30 day money back guarantee and a lifetime warranty. Cherry on the cake? Get $20 off your first away luggage with my referral link.
Electronics
The #1 electronic any conference attendee should bring is a portable power bank. You don't want to be one of those sitting on the floor tethered to an outlet. The away's charging bank can charge an iPhone 5x. If you want something even smaller, the Jackery Bolt 10050mAh Power Bank comes with a built-in cable and is recommended by NYT. Love mine! Bose's noise-canceling QuietComfort 35 wireless headphones are the first-class travel of headphones. To save $150, go with a wired one. Once you go QC25, you just can't go back. And when you're ready for some shuteye, these do a fantastic job of blocking out the jet engines. Psst, don't forget to download a couple of your favorite movies. Lean into some guilty pleasures you can actually enjoy while traveling! You finally get to catch up on a movie or two. I geek out on these: Martian, Meru, Hurt Locker and ZeroDarkThirty.
Conference-friendly gear
I wear Rothys pointy shoes for almost any occasion. I have 7 pairs but I'm not an outlier! Ask around! They're great for work, casual Sundays, and even travel. When they start to get dirty, you throw them into the wash. I've also never been able to wear pointy shoes until I discovered them. Way more affordable than Tieks and there's a color/pattern for everyone. Start with the blank points, you'll be back for more. Use this link to purchase for $20 off your first purchase. If you're going to be working out in the gym, find a pair of performance sneakers that also look good. New Balance has been killing their sneaker game of late. Check out the Cruz v1.
I don't travel anywhere without my Split 59 Naomi Jacket. It's snuggly soft, not too thick/thin, and has pockets for your phone and business cards. You can also easily stow it away in your backpack. It's pricey but I haven't found one that comes close to it on the cuteness factor. For something a little bit formal, I love uniqlo's smart blazer. It's cotton(machine washable and super comfy!) and travels well.
In general, I bring clothes that travel well and wash well. Uniqlo has a fantastic Wear To Work range that is really affordable.
Backpacks are a very personal thing but in general I find lululemon's line of bags lightweight, strong, comfortable and stylish. My go-to is the lululemon festival crossbody bag. It's large enough for my power bank, bottle of water, notebook, pens, iPhone, wallet, keys and snacks. It's also packable so I can stuff it into my laptop backpack for when I get on the plane. Another great convertible crossbody/backpack is the ANDI bag. Beloved by New Yorkers, this bag is the swiss army of all crossbody bags. I own the ANDI Small and it's large enough even for my MacBook pro!
If you can actually sleep on a plane, this $30 Trtl pillow neck brace works brilliantly. Its small/light and works fantastic in the God-forbid middle seat situation. It's rated A on fakespot.com (meaning legit reviews) but I will still beware of possible fakes when it arrives. A fake will have an internal frame that is white in color instead of gray. Order this with plenty of time to spare.
Networking for introverts
Conferences are 50% content and 50% networking. Make sure you have business cards ready to go and your game face on. As an introvert, I've always been terrified of conferences for this reason. Here are some habits I've developed over the years that could be helpful to you. Wear something or use something that stands-out so it makes it easy for people to strike up a conversation with you. A funny t-shirt, a cute pair of shoes or an interesting pin on the label of your blazer. You should return the favor. Make observations about the people at your table, or lining-up and ask them about it. My go-tos are making observation questions are:
Name on badges: "Ooh that is an interesting name! What's the origin of your name?)

Shoes/outfit: "Cute shoes/outfit, where is it from?"

Shwag: "Did you come across any cool shwag? I'm always on the look out for my kids!"

Content questions: "What's your favorite talk/booth so far? Anything I need to check out?"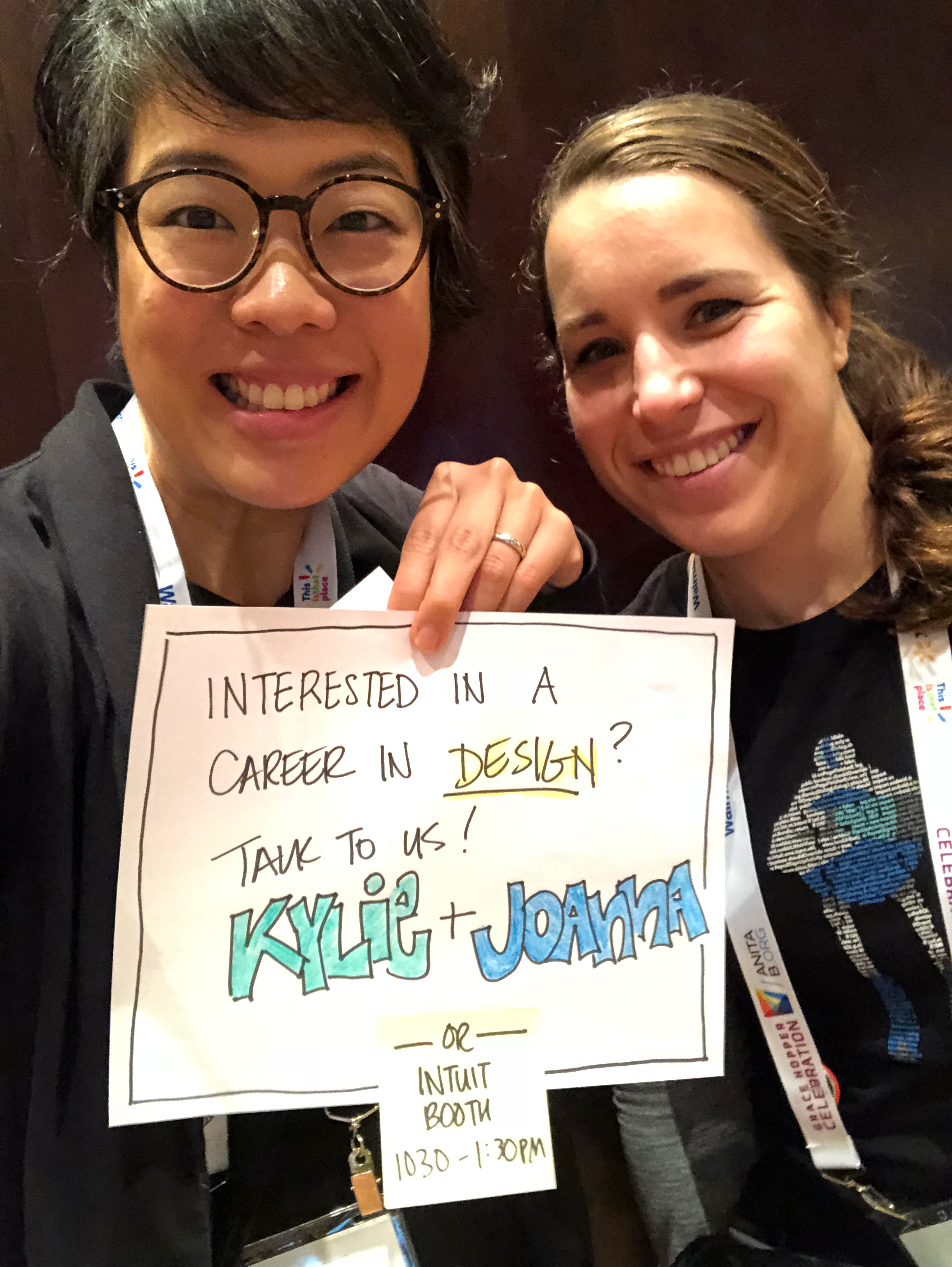 Some conferences do a great job of creating meet-ups for like-minded people to network. Join those! Otherwise, create your own opportunity. Kylie and i were trying to recruit designers at Grace Hopper, but found them hard to come by. We made a little scrappy sign and held it up for five minutes at the exit. It worked! We had 5 designers meet us at our booth!
Staying healthy on the road
If you're concerned about healthy eating like me, here are some hacks. I always have on me a packet of air-popped popcorn and a FitCrunch chocolate peanut butter bar. The popcorn is light and makes for a great snack. The protein bar is taste like an actual candy bar and keeps me full. It hits the spot enough that I can avoid the endless trays of mini chocolate mousse jars and tiramisu. For lunch, if I don't see healthy options, I'll find a pre-made salad in a nearby grocery store.
Making working out at the gym fun again
Exercise is a big deal for me. This is where your stylish sneakers come in handy. I also highly recommend the Peloton Digital app. It has a ton of treadmill and spin bike programming that actually makes working out fun. They DJ the workouts to great music and the coaches continually push out new content on a daily basis. It's a 2-in-1 because you get to stay up to date on the latest music as well. It's $14.99 a month or comes include with a peloton bike/treadmill subscription.
If you have no idea what peloton is, read my post about how it's changed my life.
Staying connected with the kids
We don't always get to FaceTime because of timezone/scheduling differences so I make it a point to record good morning and good night video clips for the kids. You can sing their favorite songs, tell some made-up stories or give them a tour of the hotel/neighborhood. Sometimes I even interview my coworkers for my clips so they get a sense of who i'm hanging out with. They love it because they feel like they are a part of it! I also like to bring home little gifts for the kid but find it hard to find a mall closely. But there's almost always a CVS or Walgreens around the corner. Seems like those come hand-in-hand with high-hotel areas. You can easily find little wrinkles like hatchimals or mini transformers. You can also hide secrets notes or gifts around the house for the kids to discover while you're gone. My personal favorite is to write special notes and have them planted in lunchbags every day. When's the last time you received a surprise handwritten note? it's guaranteed to make anyone's day. :)
How to thank your partner
Let's be honest. Traveling for work IS a real vacation. You don't have to take care of little human beings or do any chores. You get 8 hours of sleep in a comfy bed with clean sheets and the bed is always made. You get to go to the gym anytime you want. You're partying, eating well and possibly mildly drunk each night. Meanwhile, your partner has been ON 24/7. There is no better gift then to give them some time off. Plan something special for them - a movie, massage, concert, or just get the kids out of the house so they can recharge. Meanwhile, it is your opportunity to bank-up on "special alone time" with the kids. After your trip, you would have accrued a massive overdraft in quality time. If you don't pay it back ASAP, the kids will start to cry out for attention by paying back with their very own version of special time known as "cranky time".
Nursing moms
Good on you for not telling nursing get in the way! You got this!!! I'll be honest - it's been awhile since I nursed my kids but in the last four years, I've seen conference organizers start to take this more seriously. E-mail ahead of time to ask where the nursing rooms will be. Ask like you expect this to be available. If it's not, firmly request that they figure out how to solve for it. I've always been a big fan of the Medela Harmony Manual Pump because I don't like having to be tied to a power source. It's surprisingly very effective - if you know how to use it right. This youtube video shows you the right way of using a hand pump, specifically start paying attention at the 4:45 part. I was able to clear out both breasts in 10 mins flat. Yes, faster than my electric pump. For more tips on what to expect with air travel and pumping, here's a post by my friend, Laura Fu, of BATmoms.
(WLK receives a small commission on some purchases through posts.)